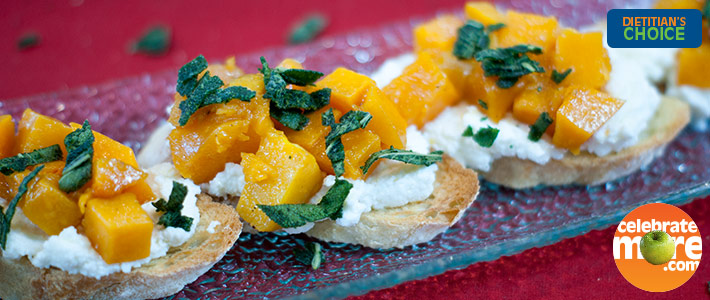 Butternut Squash, Ricotta and Sage Crostini
Ingredients
3 Cups Cubed Butternut Squash
2 Tbsp Food Club Olive Oil, divided
1 Tbsp. Food ClubLight Brown Sugar, packed
salt and pepper, to taste
Fresh Sage Leaves, washed and dried
3/4 Cup Food Club Ricotta Cheese, part skim
Zest and Juice From 1 Lemon
Whole Grain Baguette from our Bake Shoppe, cut into slices
Instructions
Preheat the oven to 425 F.
Cut the baguette into long thin slices and place on a baking sheet. Lightly season each slice with olive oil, salt, and pepper. Bake in the oven for 3-5 minutes until slightly toasted.
Meanwhile, prep the butternut squash. In a large bowl, combine the cubed squash, 1 Tbsp of olive oil, brown sugar, salt, and pepper. Spread evenly over another baking sheet.
When you remove the toasted baguette from the oven, place the butternut squash into the oven and roast for 25-30 minutes.
While the squash is roasting, place a small skillet with 1 Tbsp of olive oil over medium heat. Add the sage leaves and cook until the edges begin to curl and the leaves turn a darker green. With a tongs, transfer to a paper towel once they are done. Set aside. Once cooled, cut the leaves into small strips.
In a small bowl, mix together the ricotta cheese, zest from 1 lemon, and season lightly with salt and pepper.
Once the butternut squash is finished roasting, it's time to assemble the crostinis. Start by spreading some of the ricotta mixture over each baguette slice. Top with 5-6 butternut squash cubes and drizzle with lemon juice and olive oil. Garnish with cooked sage leaves.
Notes
This is the perfect appetizer for your holiday gatherings with family and friends!
Recipe adapted from epicurious