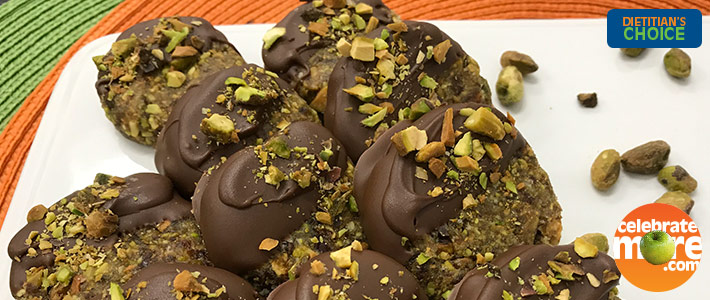 No Bake Pistachio Cookies
Ingredients
Cookie Base
1 Cup Pitted Dates
1 Cup Wonderful Pistachios, shelled
1/3 Cup Almond Flour
2 Tbsp. Water
1 tsp Vanilla Extract
Dark Chocolate Coating
1 Cup Dark Chocolate, melted
1/4 Cup Wonderful Pistachios, finely chopped
Instructions
In a food processor, add in the dates and pulse for 30 seconds. Add in shelled pistachios, almond flour, water, and vanilla extract. Pulse until the mixture comes together.
Take a spoonful of the mixture and form into small round cookies.
In a microwave safe bowl, melt the dark chocolate for 15-30 seconds at a time, stirring frequently.
Dip 1/2 of each cookie into the dark chocolate and garnish with chopped pistachios. Lay on a baking sheet lined with parchment paper. Repeat these steps until all the mixture is used up.
Place the cookies in the freezer for approximately 30 minutes to let the chocolate set. Store in the refrigerator until ready to enjoy!