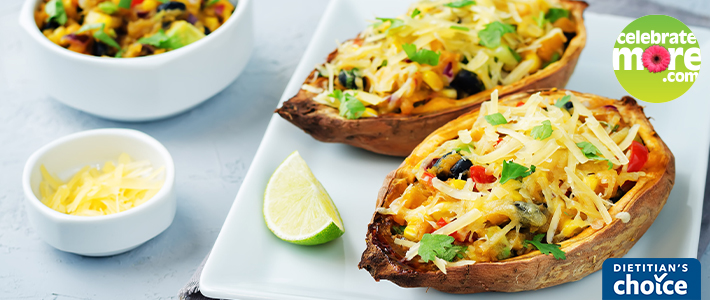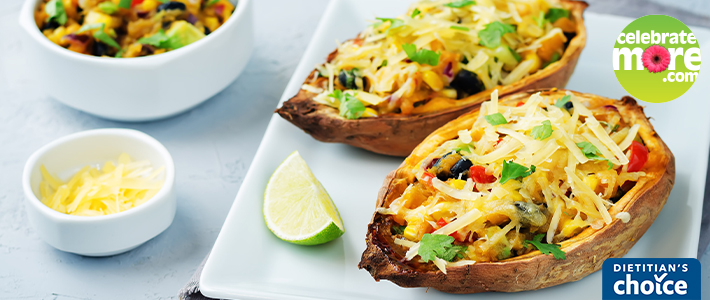 Southwestern Stuffed Sweet Potatoes
Ingredients
4 Sweet Potatoes
1 tsp Olive Oil
1/2 Cup Onion, chopped
3/4 Cup Black Beans, drained and rinsed
3/4 Cup Frozen Corn, thawed
1 Cup Cherry Tomatoes, halved
1 tsp Ground Cumin
1 tsp Chili Powder
2 Tbsp. Cilantro, chopped
1 Lime, juiced
4 Tbsp. Shredded Cheddar Cheese
4 Tbsp. Plain Non-Fat Greek Yogurt (optional)
Instructions
Clean all potatoes and poke holes throughout each of them with a fork. Place potatoes in a microwave safe dish and cook for 8-10 minutes, or until tender. Proceed to the next step to make the filling while potatoes are cooking. Once they are done, set aside.
While the potatoes are cooking, add oil and onion to a medium skillet over medium-high heat. Saute for 3-4 minutes.
Add cumin and chili pepper. Stir. Add beans, corn, and tomatoes and saute for another 2 minutes. Add in lime juice, cilantro, and cook for approximately 1 more minute.
Remove the mixture from the skillet and pour into a bowl and set aside.
Cut each potato in half lengthwise and scoop out a small portion of the potato. (Don't worry, you'll eat this later!) This will make a small area for the filling.
Add about 1/4 Cup. of the filling to each potato. Top with cheese, plain Greek Yogurt and cilantro if desired.
Notes
Recipe provided by Reach Up Head Start Early Head Start