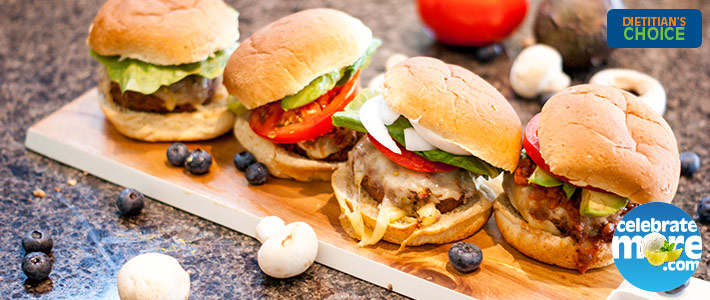 The Blend Classic California Burger
Ingredients
1 Lb. Lean Ground Beef 93/7
8 Oz. Mushrooms (white button and/or crimini mushrooms)
1 tsp. Paprika
1/2 tsp. Garlic Powder
1/2 tsp. Onion Powder
1/2 tsp. Ground Cayenne Pepper
1 Tbsp. Worchestire Sauce
Salt and Pepper, to taste
1 Avocado, sliced
Sliced Cheese
Lettuce
Tomato Slices
Onion Slices
Mayo
Whole Wheat Buns
Instructions
Thoroughly wash the mushrooms. Pat dry and place in a food processor. Pulse slowly to make the mushrooms similar in texture to cooked ground beef.
In a medium skillet, sauté onion with 1 Tbsp. of oil over medium heat for 3-4 minutes. Remove from pan and set aside to let cool.
In a large bowl, combine the lean ground beef and cooled mushrooms. Add in paprika, garlic powder, onion powder, cayenne pepper, as well as a dash salt & pepper.
Once well blended, divide the mixture into 4 patties.
Grill until the center has reached proper internal temperature of 160 degrees Fahrenheit. Just before removing from the grill, add on cheese and let melt.
Place each patty onto a whole wheat bun and add on the toppings: mayo, lettuce, tomato, onions and avocado.
The Blend Classic California Burger is a great way to add more nutrition to your meal without sacrificing flavor! Our dietitian's are adding new recipes all the time, so check out our Dietitians Choice Recipes page for all their latest recipes!
Shop from the comfort of your home! You can shop online at any of our proud family of stores for these recipe ingredients as well as the rest of your grocery list! We offer curbside pick up at all locations and delivery in select locations as well. Don't forget to connect your MORE Rewards account when you shop online for extra savings, digital coupons, and many other rewards too!
Shop Ingredients