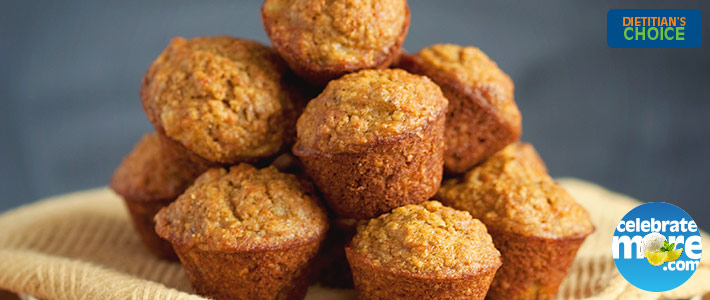 Zucchini & Carrot Breakfast Muffins
Ingredients
3/4 Cup Whole Wheat White Flour
1/2 Cup Ground Flaxseed (if you are not using ground flaxseed, add in 1 whole cup of flour whole wheat flour)
1 tsp Ground Cinnamon
1/4 tsp Salt
1 tsp Baking Soda
3 Tbsp. Butter, melted
1/2 Cup Pure Maple Syrup
1 Large Egg, beaten
1 tsp Vanilla Extract
1 Cup Finely Grated Zucchini, drained
1/2 Cup Finely Grated Carrot, drained
1/2 Cup Unsweetened Applesauce
Instructions
Preheat oven to 350°F and prepare muffin pan with nonstick cooking spray. Set aside.
In a large mixing bowl, combine the dry ingredients: flour, ground flaxseed, cinnamon, salt, and baking soda. Whisk until thoroughly combined. Set aside.
In a small mixing bowl, mix together the melted butter, maple syrup, egg, apple sauce and vanilla extract.
Add the wet ingredients to the dry ingredients and stir together until just barely combined.
Add the grated zucchini carrots. Mix until well combined.
Add batter to the muffin tin, filling each one about 3/4 of the way full.
Bake for 15 minutes or until a toothpick inserted in the center of a muffin comes out clean.
Notes
Dietitian's Tips: This is a great recipe to make at the beginning of the week for an easy, grab & go breakfast for busy mornings!
For an extra sweetness, add in 1/3 cup of chocolate chips into the batter along with the grated carrots and zucchini.